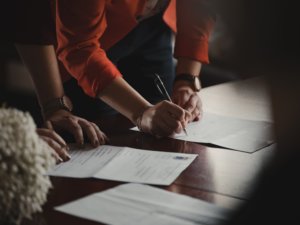 You've been looking around for a while, and it's finally caught your eye: the perfect property. Maybe it has the house you've always dreamed of with a walk-in closet, or it's a commercial property with a storefront perfectly suited to the business you've been trying to get off the ground. Either way, you're sold, and you're ready to complete your real estate purchase and settle in.
A real estate agreement is something your lawyer in Barrie can help draft up for you, and you shouldn't consider buying a property without one. Your real estate agreement lays out all the small details of your purchase so that if there are any disputes or discrepancies from either you or the seller, you can reference the agreement to determine the right move.
However, before you sign your agreement, there are a few small things to look for that can make a big difference in your purchase. Here are five details that you and your lawyer should always check to make sure are included.
1. Take the Microwave, Leave the Fridge
It doesn't matter if the house was shown to you with a luxurious big-screen TV and a state-of-the-art dishwasher; if those items aren't explicitly mentioned as being included in your real estate agreement, then you're not going to get them with your new property.
Before you sign the papers, look through and make sure that the agreement includes or excludes any items of interest to you. Will you inherit the grand piano in the living room, or will the seller be taking it with them? Is the water softener owned and included with the house, or is it on rental from another company? Your Barrie real estate lawyer can help you understand the conditions of the agreement so there won't be any surprises when you move in.
2. Wait, How Many Sets of Keys Are There?
If your new property includes a locked mailbox across the street, how many keys will you be receiving? If you want a copy for your partner and a spare "just in case", make sure you get it in writing in your real estate agreement. Otherwise, you could be left standing on the front porch with your family and only one front door key.
3. Who's Paying for What?
When it comes to the fees for title insurance, transfer tax, and title search fees, will you be paying or will the seller? If it's not clearly defined, these small fees could erupt into a much bigger dispute. Instead, simply ask your real estate lawyer in Barrie to review the contract for these stipulations. No matter who's paying for what, having the fees already allocated to specific parties will help ensure a smooth transaction and turnover of the property.<
4. Is a Home Inspection Happening?
A home inspection is when a certified home inspector comes to examine the property you're purchasing to let you know of any concerns that you might need to address, as well as the overall condition of the property at the time of purchase.
It's generally good practice to include a home inspection contingency when you're putting in an offer since that contingency will allow you to withdraw your offer if sizable concerns are found. If your current agreement doesn't include a home inspection clause and you want to include one, it's time to chat with your real estate lawyer.
5. What Does the Registration Say?
The land and title registration says a lot more than just who owns the property in question. It can detail everything from what percentage of the property is held by each owner to what the property can be used for (residential or commercial use, for example), so it's well worth your time and your lawyer's time to look it over and make sure that everything is as it should be. If the registration includes restrictions you didn't know about or references another part-owner of the property, you may need to investigate before you proceed with the sale.
When in Doubt, Ask Your Real Estate Lawyer
In Barrie, especially when the real estate market is particularly hot, there can be a lot of pressure to hurry up and grab a good deal before it disappears. If you're not sure what you're looking at in your agreement (or what you should be looking for in the first place), it's always a good idea to make sure you have a real estate lawyer who can help.
As a licensed, people-oriented lawyer with over 40 years of experience, the team at Lamprey Law is ready to help you make your next real estate purchase with confidence. It's important to us that you understand all aspects of your contract and that you actually get what you're paying for. No matter whether it's a brand-new home, a condominium, or a rural property, we'll make sure you have all the information you need to enjoy your new property without worrying about the headache of the small details – that's what we're here for.
To learn more about what a real estate lawyer in Barrie can do for you, give us a call at (705) 722-1114 or contact our office online.