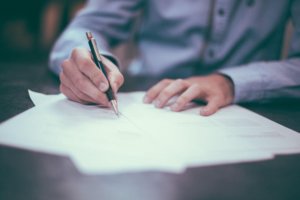 Many people think that they are just for the wealthy, but everyone can benefit from a will. Having a will has become a common practice within households to help ensure everything is taken care of after your passing. Having a will allows you to rest easy, knowing that your family or estate will be taken care of. Let's discuss more in detail what a will is and why you need one.
What is a Will?
A will is a legal document created to manage your assets and who will look after your minor children after you pass away. Managing your assets can be things like how your real estate, jewelry, or furniture is distributed or how items will be paid off, like debts or mortgages. It can even leave instructions for your funeral, so your loved ones will know all the arrangements that need to be made for your burial.
It also doesn't go into effect until after you pass, so it can be changed whenever needed. Afterwards, you must have a witness, typically two people and you, sign the document.
Who Needs a Will?
Making a will is essential if you have children, property, or valuable assets. You want to make sure everything is handled and not thrust upon your family. It also needs to be updated as your life progresses; if you have a new child or buying a new home, make sure you update your will.
Why Should I have a Will?
When you don't have a will, then by default, your money and assets will be distributed to certain people once your debts are paid. It's very technical, and it may not be the way you want to have it shared. You may wish to have certain family members receive more money if they were more prominent in your life or will be handling more expenses.
If you have children that are still minors, you are going to make sure they go to the guardian of your choice, instead of them having to apply through the government before they can be appointed as their legal guardians. Also, Ontario Law may favour blood relatives over someone who is a better-suited choice for your children.
Who Can Create My Will?
A lawyer who specializes in wills would be the best person to help you create your will. The reason for this is that they are experienced and will know everything that you need to have written in your will and will make sure that certain formalities are followed. They will help you go through the whole process and ensure you are happy with the end result. You will also be rest assured that it will be a legal document.
Writing a will is a vital step in protecting your family's future. Through a will, a person identifies who should receive their assets and ensures that your loved ones are taken care of. In addition to protecting your children from any potential conflicts, having a will allows you to lay down your wishes for your estate after death. When you create a will, you will have the peace of mind that everything is in good hands.
Get in touch with us at Lamprey Law to get started on your will today.